Micro Accessories G4 iBook / PowerBook Adapter
Apple's quality control is appalling. It really is. I understand it makes a great operating system, but it's galling to me how shoddy their quality has become on their products.
If you have an Apple PowerBook, iBook, you may have noticed by now your power adapter has failed. If it hasn't, give it time. Apple has always made shoddy power adapters. I am on my seventh Apple notebook computer and I have gone through more than several power adapters for each model and all of them despite the fact they were engineered from scratch for almost every model continually fails in the same spots.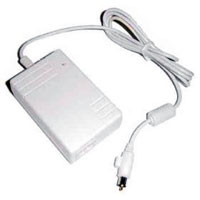 But wait friends, it gets even worse. Now Apple is backordered on adapters like the 65-watt Adapter for G4 iBooks and PowerBooks (M8943LL/A) is badly backordered to the point they are simply unavailable. I mean come on, this computer was being sold in 2006. How could the power adapter not be available under a year after the model was for sale?
Thankfully, Micro Accessories makes an adapter for all the G3 / G4 PowerBook, iBook models. These adapters are better made than Apple's own adapters. They use a heavier gauge wire that is less likely to fail at the power tip like almost every Apple power adapter I have ever purchased. It's two-prong, it's dual voltage (100-240v), it's smaller and yes, it's significantly cheaper than Apple's own adapter!
It has a built-in LED in the voltage transformer to show if the computer is charging. It's different than the Apple one, but it works. It has a full one year warranty as well.
Since Apple obviously does not want your business.
Compare Adapters:

Micro Accessoroes G4 iBook / PowerBook Adapter