Welcome to ARF!
Over the years, ARF has come to stand for a lot of things. It was the Web site conduit for the activities of the Artists Republic of Fremont, a group of celebration artists from Seattle, Washington. ARF is also known as the Artist Resource on Fire. We are collecting information for artists working with fire as an art form to give people a better understanding of ways to use this exciting medium.
Artist Resource for Fire
Fire Information
A resource for information for fire artists or people who want to look like one.
arfarfarf.com/fire/
Fire Photo Gallery
A collection of photos involving fire eithert taken by Wally Glenn or featuring Wally. arfarfarf.com/photos/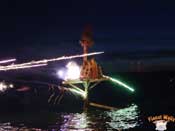 Safety Information
Do you play with fire? Check out our pyrotechnic safety information for tips, hints and regulations. Have fun, be safe. That's our motto. arfarfarf.com/safety/
MSDS Information
Material Data Safety Sheets for fire artists.
arfarfarf.com/msds/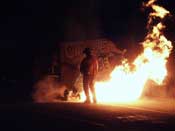 Pyro Boy
Pyro Boy is the Human Firework. He is the Green Man reborn! Possibly the wildest stunt you may ever see.
pyroboy.com
Artist Republic of Fremont
Fremont Troll
Seattle's famous landmark. Tucked under the Aurora Bridge, open 24 hours a day.
arfarfarf.com/troll/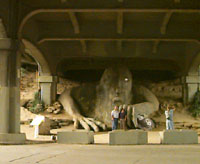 Burning Man
Information on the Burning Man activities of the Artists Republic of Fremont arfarfarf.com/burningman/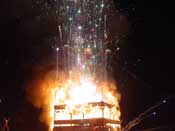 PNW Driving Directions
Directions, detours and landmarks you can use to make your way from British Columbia, Oregon and Washington to get to Black Rock City.
gwally.com/directions/
Emily Bowen
Emily Bowen is a Licensed Massage Therapist, RMHC and Reiki Master in Seattle, Washington that specializes in Holistic Life Work.
emilybowen.com
ARF!
Dog is my Co-Pilot
Dog-friendly places you can visit in the Seattle area and around Western Washington. arfarfarf.com/dog/
Other Sites
Latest News from Wally
Latest news and commentary. gwally.com/news/
Cookbook Reviews
Cookbook reviews from Schuyler Ingle. He spends his time between Seattle and Oakland and loves to cook. Always a good read.
foodist.com/cookbooks/
Camping Product Review
Reviews of products that people use at Burning Man. Coolers, flashlights, tents and more. arfarfarf.com/review/
Rust-oleum Reflective Finish
An excellent unobtrusive way to add a little reflectivity to an object. more...
Brother HL-2070N Network Monochrome Laser Printer
This is an excellent printer! When I first ran across the printer, I was very reluctant to buy it. Being a Mac guy, I sometimes find the print drivers do not work as well as they do on Windows. Or I find I have to jump through some hoops to get it to work right. The reviews I read indicated it was trouble-free, so I decided to give it a try. more...
Avatar Collection
A unique and strange collection of unique avatars for use in Web discussion forums. Most are sized at 150 x 150 pixels and all of them are free.