Dirt Devil Vibe
"No Hassle Dirt Management System!" the label proudly exclaims. Too bad it's just a marketing statement.
There is some hassle to the dirt management. However, this in my mind is a good thing. When you see how much dirt is on your floor as it swirls around the canister, you will be amazed at how much dirt is on your floors.
As far as "No Hassle" goes, here is how you have to clean the vacuum every time you empty the canister: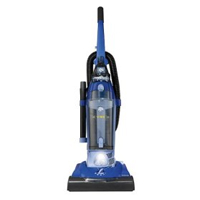 1. Remove from canister
2. open the bottom to dump the dirt
3. Open the top to clean out the dirt stuck to the top of the filter
4. Clean the foam filter that is choked with dirt
5. Clean the dirt out of the HEPA filter
6. Pull the dirt ball out of the vacuum that didn't make it to the canister.
7. Reassemble.
8. Wash all the dust off your hands, & clean up the dust you just scattered everywhere banging the dust out of the canister & filters.
This is not in my mind no hassle dirt management.
On the positive side, it's better than a broom. It does clean your carpet and you can see how much dirt it is picking up as it swirls around the clear canister. When the dirt quits swirling around, the canister is full. Unfortunately, the canister fills up rather quickly.

If any of this sounds unappealing, I would strongly suggest a Dyson instead. Even a bag system is less messy than this, however the bag systems will require a bag replacement. However, all of that dust being stopped by the filters should show you that this machine does pick up a lot of dust! Like the Dirt Devil Dynamite, having a can of canned air around is really helpful.
On the plus side of things, this vacuum does have a 30' long cord, it has a height adjustment for the powered brush and it has a little beater brush and I feel it does a good job on floors and furniture. It's a bit too short for use in a car, but otherwise it seems to do fine. The price is under $100 at many retailers, so you do get a decent vacuum for a reasonable price, with a three year warranty.
Dirt Devil Vibe