5.11 ATAC Low Boot
Why should swat teams have all the comfortable shoes?
I was looking for an all-black, sturdy, leather shoe for a trip to London. I was having a problem finding anything I liked because so many of the shoes out there don't fit the bill. On a fluke, I went to a uniform store and found 5.11 Tactical Series. They definitely win points for a very weird name.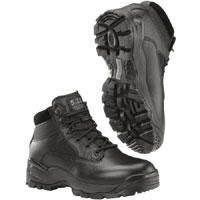 The shoes are made with American leather (in China), with a Phylon comfort midsole, Drilex lining and an oil & slip-resistant outer sole. They have a Shock Mitigation System which means they are very comfortable to wear all day long. After a minor break-in period, these became my favorite shoes as I prowled the streets of London. The nice part is that they sell for around $90.00, which is much cheaper than comparable shoes i found by other companies. And they are black on black.
The shoes come in a variety of sizes including wide sizes up to 15 regular and 13 wide.