Belkin 54g Wireless Router
With a price under $40 for a 4-port wireless router, it's hard to go wrong with the Belkin.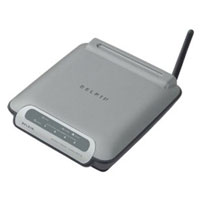 This package says, "3 Minute Easy Install" "Lifetime Warranty" and lists a 24/7 toll-free support number on the box. 877-736-5771. I think three minutes is overstating the time just a bit. I would say from sticking the CD in the computer to tossing out the directions, it's going to take you 10 minutes. Maybe more, maybe less.
The set-up on this system is almost impossible to screw up. If you can RTFM (Read the Fø©#*ñg Manual), you can install this. The manual, which is more of a multi-fold pamphlet, says in big red letters, "START HERE". There are 5 steps. They are clearly illustrated. This is something you can do. If you have a built-in Ethernet port on your computer, your router, you have everything you need to make this stuff work and work well. Anything extra is in the box.
It has four ports for configuring other computers without a wireless card. It is only 4.5" x 5.25" x 1.75" in size. Although with cables plugged in, and the antenna raised, its closer to 4.5" x 6.75 x 4.75", which is fairly compact. It has two mounting slots so you can screw it to a wall and hide it out of the way, it has clearly labeled ports and it's configuration software is really easy to figure out. It works with a Mac (9&10), Windows (98SE to XP) and it can be configured manually by connecting the router to your computer and typing in: 192.168.2.1 into a Web browser. Although you may want to call tech support if you do this. I suggest you do not use a password longer than 8 characters if doing WEP 64-bit. I would also suggest writing any passwords you use on the back of the router. Also, if you have a lot of AC adapter bricks, label the brick because the there is no Belkin name on it and if you ever have to disconnect 5-10 bricks, it's a puzzle trying to figure out which one goes to the router, the speakers, the external HD, the DSL router, you get the idea.
I bought one for under $30. If you need a wireless router, this is one I recommend. There's faster ones, there's more expensive ones, but if you need a nice, small, easy-to-install router, this is one I would recommend.
Belkin 54g Wireless Router