Holey Soles
The unofficial footwear of the Seattle Burning Man community.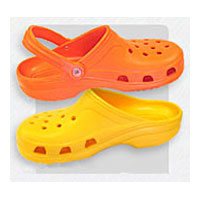 Holey Soles are a patented, lightweight, injection molded footwear made from a technically advanced, closed cell polymer foam and they kick ass.
They are comfortable, lightweight, clean up easily, come in multiple colors and made in Canada. What is not to like about them? They are the perfect around-the-camp type of shoe.
Great for hot springs, great for swimming since they float.
Holey Soles