Rust-oleum Reflective Finish
An excellent unobtrusive way to add a little reflectivity to an object.
This product is perfect for adding a reflective highlight to a project to make it more visible at night. Lets say you just painted a big black obelisk and you want to put it on the Playa. But without lights, there's a chance someone might run into it. In addition to lights, painting Rustoleum Reflective Finish on the Obelisk is a subtle way to make the project more visible.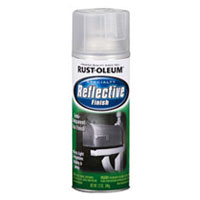 This product is meant for highlighting things like driveway markers, mailboxes, light posts, or fences. So think how well it might illuminate a guy wire, a rebar stake, a T stake, or a bike. It would be a great way to make a mutant vehicle really stand out. I might try it with costumes. Imagine walking around with black light reflective clothing coated with a Reflective Finish.

The 10 fl. oz. aerosol can covers approximately 75 sq. ft.

It has a clear finish but it puts the same microscopic reflective glass particles you find on road signs on whatever you paint. It adheres to wood, plastic, metal, tent fabric and much more. Best of all it dries clear, so you can use it as a top coat over the surface.