Luggable Loo
The Luggable Loo is the perfect device for those that have potty issues.
If you have ever had to get up in the middle of the night to pee, knowing that the potties are a long way away, this device is for you. It is easy, it is simple and it works. Luggable Loo features a sturdy plastic bucket that with a snap-on, hinged toilet seat. It has a strong metal bail handle to easily carry the Loo which makes emptying the Loo easy and fast.
When you look at the Luggable Loo, you get the distinct idea its nothing more than a five gallon plastic bucket with a toilet seat. Thats the beauty of the design. It's simple, it's sturdy, it's effective, there are no pumps, no batteries, it's a comfortable height for use and it works. Trust me, the last thing you want to do on a camping trip is trouble-shoot problems with the heavy potty you lugged out to the middle of nowhere.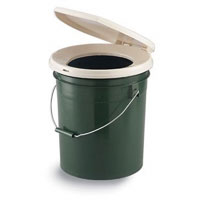 As far as emptying the Luggable Loo goes, you can take it to any port-a-potty, dump the contents and you are done. Add more water and chemicals and you are set.
This is perfect for any situation you might need a potty.
Another accessory we highly recommend is Liquid Gold Toilet Deodorizer. It is a bottle of chemials designed to control the smell of the potty. It works great and for only $6.00, it's worth picking up. Liquid Gold can be found at REI and most sporting goods stores.
Luggable Loo