A Tour of Fremont:
Rapunzel
Rapunzel can be found locked in a tower on the Fremont Bridge. more...
Lenin Statue
People always wonder, why is there a statue of Lenin, the guy most associated with Communism and the father of the old Soviet Union, doing in the middle of Fremont? As with most quirky things in Fremont, there's a story to be told. more...
Summer Solstice Parade
Once a year, the denizens of Fremont come out in force to throw a parade. It's a parade unlike many you have ever seen before. There are no advertisements, there are no animals, there are no written words, there are no motorized vehicles. It's a human-powered parade fueled by imagination. more...
Fremont Troll
Lurking under the north end of the Aurora Avenue bridge is one of the most popular art pieces in Seattle. It is the Fremont Troll. Yes, thats right, a Troll. more...
The Sign Post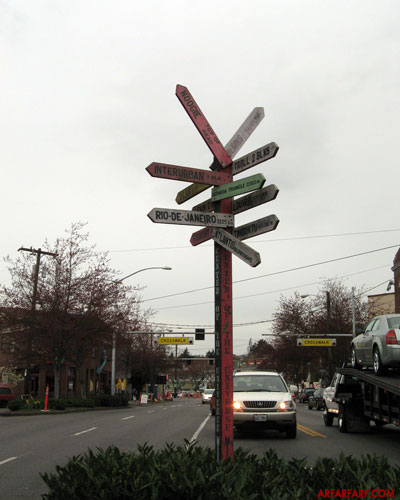 The Sign Post at the Center of the Universe. more...